Episodes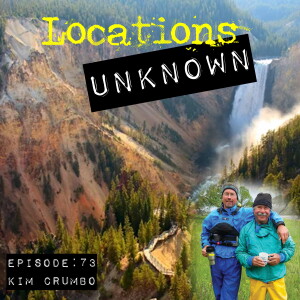 Monday Nov 14, 2022
Monday Nov 14, 2022
On September 19th 2021, a retired Navy Seal who served two combat tours in Vietnam, along with his younger brother, were expected back from a 4 night excursion in the Shoshone Lake area of Yellowstone National Park.  When the pair failed to check in with family the search and rescue operation kicked off.  What could have caused such an experienced outdoorsman to go missing?  Join us this week as we investigate the disappearance of Kim Crumbo.
Thank you to the Chime In Podcast for exclusively sponsoring this episode.  
The Chime In Podcast explores random and fascinating topics in a relaxed format.  Weekly trivia questions, true crime tales, mysterious happenings, and science and human interest stories will get you ready to Chime In with hosts Graham, Michaela and Sarah!  You can listen to the Chime In Podcast on any of the major Podcast networks including Apple Podcasts & Spotify.  You can also visit the Chime in Podcast on Facebook (https://www.facebook.com/ChimeInPodcast/), Twitter (https://twitter.com/ChimeInPodcast), & Instagram (https://www.instagram.com/ChimeIn.pod)
Episode Suggestion Shoutout - Angie Helmick Walter
Want to help the show out and get even more Locations Unknown content!  For as little as $5 a month, you can become a Patron of Locations Unknown and get access to our episodes two days before release, special Patreon only episode, free swag, swag contests, your picture on our supporter wall of fame, our Patreon only Discord Server, and discounts to our Locations Unknown Store!  Become a Patron of the Locations Unknown Podcast by visiting our Patreon page.  (https://www.patreon.com/locationsunknown)
Want to call into the show and leave us a message?  Now you can!  Call 208-391-6913 and leave Locations Unknown a voice message and we may air it on a future message!
View live recordings of the show on our YouTube channel: Locations Unknown - YouTube
Want to advertise on the podcast?  Visit the following link to learn more.  Advertise on Locations Unknown
Learn about other unsolved missing persons cases in America's wilderness at Locations Unknown.
Follow us on Facebook & Instagram.  Also check us out on two new platforms - Pocketnet & Rumble.
You can view sources for this episode and all our previous episodes at: Sources — Locations Unknown